IPL Treatment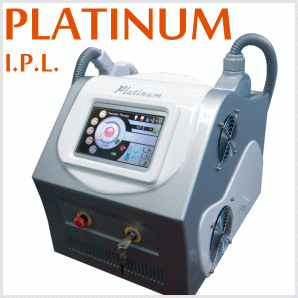 System Features : Five treatments in one unit:
• Hair Removal /Removimiento de bello
• Skin Rejuvenation/ Rejuvenecimiento de la piel
• Pigmentation Therapy /Terapia de pigmentación
• Vascular Therapy/Terapia vascular
• Acne Therapy/Terapia para el Acné
Acne Therapy
Acne occurs when sebum is unable to leave the skin because a hair follicle is blocked. This may result in growth of bacteria below the surface of the skin. Inflammation can occur, and rupture of an inflamed area can lead to scarring.
IPL and laser systems work by reducing the blood supply to the sebaceous gland, which slows down production of sebum and accelerate the healing process acne.
The visible light produced by the IPL systems is carefully controlled to produce the correct pulse length and wavelengths to reduce the acne without damaging the surrounding tissue.
Pigmentation Therapy/ Terapia de Pigmentacion
Benign pigmented lesions may be genetic in origin or may be caused by physical damage such as sunburn or injury, as well as the natural effect of ageing. The lesions can vary in size and color. It is always important to ensure that the lesion is not malignant before removing it.
Skin Rejuvenation/ Rejuvenecimiento de la Piel
Skin Rejuvenation is a process that improves all the visible elements of the skin altered by the sun or aging, including wrinkles, laxity, roughness, enlarged pores, talagectacias (red veins), erythema (redness) and uneven pigmentation.
The Photo Rejuvenation is the visible improvement of the skin using a laser or light source acting non-invasively and without injury. It is a new concept and approach in skin treatment. The IPL system treats extremely well the skin of the facial area, neck, chest and back of hands. For best results, it is recommended for a patient to come in the first time for six (6) consecutive days and then, only once a month for maintenance.
The end result is to obtain a more youthful and healthier skin, soften wrinkles, skin texture, skin laxity, the appearance of pores, pigmentation irregularities (age spots), erythema , telangiectasia and redness. The treated skin shows a significant formation of new collagen.
The long-term results after IPL photo facial treatments show that 70% of patients maintained an improvement of up to twenty one months after last treatment.
Side effects, if present, are minimal and consist of small temporary redness and inflammation. Also, the patient may see a darkening of skin pigmentation but in seven days is resolved.
IPL photo facial treatments are especially attractive for patients who wish to improve their skin's appearance without recovery time and the result is quite natural.
Hair Removal
– Treating all skin types.
Permanent hair removal – It can take up to eight (9) treatments to totally eliminate the undesired hair. This totally depends on the patient and the visible results.
6 Sessions – One session per week.
2 additional sessions – Once per month (if any hair is still present)
1 final Session after two months as a follow up (if necessary).
To treat legs and arms (thicker skin) – it should take 6 to 8 continuous sessions – weekly or every 15 days. If the patient extends the treatments to more time in between sessions, it may take more sessions than originally planned. Hair removal on Man's face: It is highly recommended to apply cold icy compresses to area to be treated before using the laser to assist with the possible discomfort. It is also recommended to set the cooling system to high.
It is also recommended that the patient come shaven with at least 1mm of hair length so that it is easy to view the areas to be treated. A burning smells will be experienced during treatment and this is a good sign – and nothing to be alarmed about.
Permanent Make-Up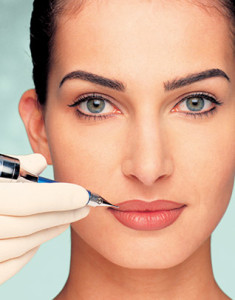 Is perfect for busy people who have little time to apply makeup, for the
athlete who wants to look natural, and those with oily skin whose makeup seems
to disappear after a short time. Also, those allergic to conventional cosmetics or
contact lens wearers may benefit from the application of permanent makeup.
Whether you would like to create a soft natural look or a more defined
dramatic one, or you would like to correct nature's mistakes, we are ready to
meet your needs at Vellisimo Salon & Spa
We offer cosmetic enhancements including eyeliner, eyebrows, lip liner, full lip
color, beauty marks.